Team Hilario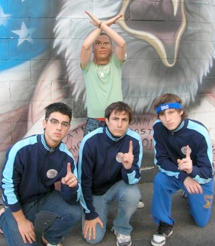 Team Hilario is a fake band that Joe Jonas, Greg Garbo and former drummer Alex Noyes created along with Nick Jonas as the "Coach" (a.k.a. Nick in a 'The Rock' mask.)
Team Hilario is really just one giant inside joke between the Jonas Brothers and their band. They "performed" the song "I Believe I Can Fly" (originally by R Kelly) at one of their Jonas Brothers concerts in summer of 2006.
In some older pictures, you might even see Nick wearing a Team Hilario shirt. Again, just a big inside joke, haha.
Members
---
According to the official Myspace page, there are 4 members of Team Hilario. Coach Hilario, #1, #2, and, #3.
In addition, they list "John Lloyd Taylor" (their guitarist) as the "General Manager" and someone called "'Towel Boy' (formerly known as 'water boy')" who many speculate to be Kevin.
YouTube
---
Several videos of Team Hilario's performance of "I Believe I Can Fly" are still available on Youtube today (see below.)
Links
---
page revision: 2, last edited: 20 Jul 2008 02:49